Eliot, Ambassador of the values of Le Plaza since 1st January 2020
Hello, my name is Eliot
I was born on the occasion of Hotel Le Plaza's 90th birthday and I will be delighted tout keep you company and to be by your side throughout this special year.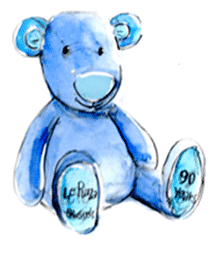 E for Elegance,
Not only in the choice of fabrics and furniture, but also in the welcome, the fine dining and our expertise
L for Loyalty,
We are convinced that loyalty is built through mutual trust, both on the level of guests and employees
I for Independence,
Because we are lucky enough to welcome you to a 100% Belgian institution
O for Organizer,
Because we have the event experts who contribute to the success of the missions you entrust to us
T for Tradition,
Hotel tradition in its purest hotel form
We are very pleased to inform you about our partnership with the Child Focus Foundation. By adopting an Eliot you contribute to the financing of Child Focus and to the fight against disappearances and sexual exploitation of children.
To adopt an Eliot, please don't hesitate to ask at our reception desk, where we give Eliots up for adoption starting at 9€. The profits linked to these adoptions will be entirely donated to Child Focus.